I've re-written this post at least 20 times in my head. Where to begin. How to put into words the feelings and emotions that are going through me. Every time I consider the love and devotion that my husband has shown this family I just feel overwhelmed. Biologically, our son is not his. Emotionally…well that's another story.
If you remove the events prior to 2003, there's no question that DS belongs to DH. They belong to each other.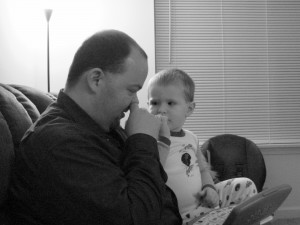 And it started a long time ago. The above photo is from early 2003. Little Man is only about 2 and a half.
That's a happy looking man right there.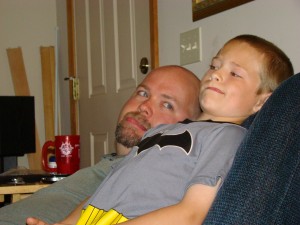 This one is from just a few months after the wedding.  Little Man asked for hubs to be his "for real dad".
And here… is hours after the court hearing on this day last year. The smiles on those faces (mine too) are priceless. Little Man's dream came true, and I think that applies for all of us in this house.  This "For Real Dad" loves his son as much as any "for real dad" could. As far as I'm concerned, that loving blue-eyed man is the only father that little boy has ever had.
We are lucky and blessed to have been able to do a step-parent adoption with no contest. The unfortunate thing for so many other families like us is the cost of the process. We shouldn't need to be rich to do what is best for our children. It is a very costly and time-consuming process. But for us it was worth every penny, and every year, month, week, day, and minute of waiting.
Happy Adoption Anniversary to my husband and our son.