No, I didn't go back to middle school. My son started 6th grade a couple of weeks ago, and I tell ya what it's a heck of an adjustment for both of us.  There are so many classes to keep track of compared to last year, so many papers, so many activities, and then his Tae Kwon Do on top of it all.
I applaud you mothers who work full-time, go to school yourself, and still pull this off.  I'm only employed part-time and I feel like it's a struggle to keep up.
So my son has mild ADHD, which of course had me worrying about how he would adjust. Perhaps he's made the adjustment better than I have. Perhaps changing classes every 45 minutes is what he is more suited for doing. There's no need to focus for too long on anything. His brain gets to switch gears frequently throughout the day. It helps that his school is pretty awesome. They have a homework list available right on their website which the kid and I go over every day before we leave the school parking lot. The decision was made for him to be driven to school and picked up after so that he is less likely to forget something important. So far, it's been worth it.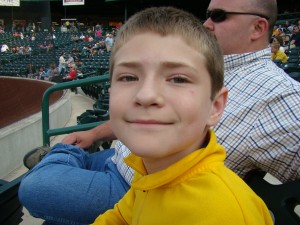 Now comes the first school dance of the year. The first school dance of his life. My first school dance as a mother. I'm not prepared for this. He's talking about girls and wanting to wear body spray! My little boy is a small man now. Surely this happened overnight, right?
He sure does look good in yellow.
Did I mention how I'm not ready for this?
I promised this year that I would do better. With his heavier work load, I feel like I'm even more obligated (I don't mean that in a bad way) to be there for him every day. So when he's sitting at the table doing homework, I'm sitting right there with him. I go over his planner with him every single day. We set goals every week. We practice his spelling tests together every week. I can even check his grades online now, so we are doing that regularly, too. We also invested in a nice zipper binder for him to carry all day; he says it really does help him stay organized.
How did you and your child adjust to middle school? Do you have any tips or advice to help me or other parents who are making this transition?
No Comments :(